We have recently returned from an unforgettable 3 week trip with Shine Gold tours.  As a result of our experience we would highly recommend this company and would want to highlight a number of factors that made the trip so successful and enjoyable.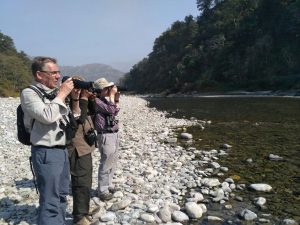 We were keen that our itinerary should both include a number of opportunities for bird watching alongside cultural visits.  Shine Gold were keen to get our thoughts at all stages of the planning process and they readily made a number of changes to the initial plan to ensure that all our requests and ideas were incorporated.  Our finally agreed itinerary, starting and finishing in Delhi, included cultural and birdwatching activities in the golden triangle before we headed north to Nainital and Jim Corbett National Park.
We were accompanied for the whole trip by Asim and then Asif from Shine Gold tours, Ratan Singh our incredibly knowledgeable and observant bird guide of 40 years experience who could spot a small bird at 400 metres and Nipendra Chauhan our driver who ensured that we felt totally safe and secure in what can seem a fairly chaotic and at times scary traffic system.  Over 3 weeks we got to know our fellow passengers fairly well and could seek their, sometimes different views, to our enquiries on many aspects of Indian life.  We had the privileged opportunity to visit all their homes, which all lay close to our route, and learn even more.
Our trip included both stops at locations popular with western tourists but also locations that took us off the main tourist route.  Inevitably accommodation varied in terms of comfort but all was satisfactory for our needs while a couple of stops gave us the experience of living like a maharaja!!
Shine Gold Tours is a family business run by the three brothers Asim, Asif and Arif Mohd who were brought up in downtown Delhi.  By using them we were cutting out the middle men inherent in so many tour operators.  Their organisational skills, their knowledge of and contacts in the areas we visited, their welcoming friendliness and honesty also played a big part in making the trip so unforgettable and enjoyable.
And on a final note the overall price for this tailor made tour was extremely reasonable and offered very good value for money.
Email:  pete.sacker@blueyonder.co.uk 
Country : UK