Agra Tours
Tour information
Personalised Agra tours, according to your timeframe, including a one-day Agra tour from Delhi (7am to 10pm), or a tour with overnight.
Experience the grandeur of the Taj Mahal.
Learn the impressive history of the Agra Fort.
Relax in Agra's lush gardens.
Explore the nearby Fatehpur Sikri city.
Testimonials
"We have had a wonderful trip around the Golden Triangle. Thanks to you, we have experienced a real taste of India and the amazing sights. We really appreciate your knowledge and guidance." – Drew and Katie G., England

"We have had a fantastic time and have done so many things that would have been impossible without you" – Giles and Duffy, England

"What a great two days I have spent in Delhi and Agra! My good expectations were definitely surpassed! Asim was a great knowledgeable tour guide." – Matthew B., Australia

Contact us to speak with one of our previous clients.
Suggested Itineraries
Scroll to the bottom of the page to earn more about the sites that we will visit during your Agra Tour.
A day tour from Delhi to Agra, with the Taj Mahal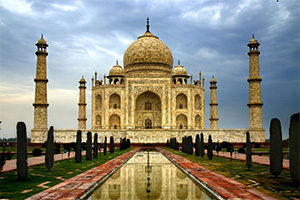 Overnight Agra Tour: Delhi, Agra and the Taj Mahal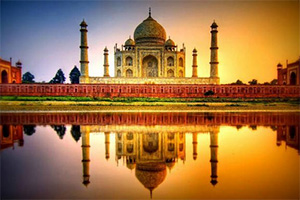 Duration: 1 night, 2 days
Location: Delhi, Agra
View details
Places to visit during your Agra Tour
With custom Shine Gold Tour India's tours, you will have the freedom to include any of these cities in the tour itinerary.
Taj Mahal
Most probably you will start sightseeing in Agra by visiting the magnificent Taj Mahal, one of the most admired heritage monuments in the world. The Taj Mahal was constructed by Mughal Emperor Shahjahan in memory of his beautiful wife Mumtaj Mahal. Around 20,000 labourers worked day and night for a period of 17 years to build this marvellous monument. The incredible view of Taj in the morning and evening becomes an unforgettable sight for every tourist.
Agra Fort
Agra Fort is the second most famous tourist site in the city. It won the Aga Khan Award for Architecture in 2004. It's also a UNESCO World Heritage site. It was built by the third Mughal emperor Akbar. Around 1,444,000 builders worked 24 hours a day to complete this mammoth structure in 1573. Places to visit inside Agra Fort are Diwan-i-Am, Diwan-i-Khas, Moti Masjid, Rang Mahal, and Sheesh Mahal.
Various Gardens
There are also many beautiful gardens in Agra where you can spend quality time in a peaceful environment. The most popular gardens are Mehtab Bagh, Ram Bagh, Dayalbagh Garden, Shah Jahan Park, Taj Mahal Garden, and Taj Nature Park.
Fatehpur Sikri
Fatehpur Sikri is a city 39km and around one hour's drive from Agra. It was previously called Sikrigarh, but after the victory of Akbar over the Sikarwar Rajputs, it was renamed to Fatehpur Sikri ("Fateh" means victory). The construction of the city was commenced under the reign of Emperor Akbar. It took 15 years to plan and complete the construction work of royal palaces, courts, harem, a mosque, and other structures. The monuments at Fatehpur Sikri reflect the greatness and genius of Akbar in assimilating diverse regional architectural influences (Persian, Mughal and Indian). The most famous tourist places to visit in Fatehpur Sikri include Buland Darwaza, King's Gate, Mariam-uz-Zamani House, Queen's Palace and Anup Talao (pond).
This list of places is for information purposes only. You can include and exclude any place from your sightseeing tour package.
  Enquire about your tour today!