Delhi Tours
Tour information
Personalised Delhi tours, customised to your interests, timeframe, and budget.
Explore the most important sites in Delhi in an authentic way.
Experience both the popular and 'off the beaten tracks' places, as only locals know it. We can bring you to hidden gems for lunch, chai, or special vistas.
Testimonials
"Wonderful service. I have never experienced such warm hospitality and friendliness like I got from you." – Reshina, Nepal

"We would absolutely recommend you to everyone we know. They would have a good time just as we had." – Kolan, Sweden and Peder, Denmark

"We are very happy to have met you and we hope you continue making a lot of people smile as you have done with us." – Gemma M., Spain

Contact us to speak with one of our previous clients.
Suggested Itineraries
Scroll to the bottom of the page to earn more about the sites that we will visit during your tour.
Delhi day tour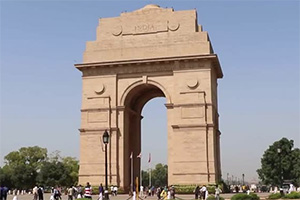 Delhi night tour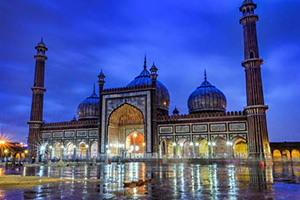 Places to visit
With custom Shine Gold Tour India's tours, you will have the freedom to include any of these cities in the tour itinerary.
Akshardham Temple

Discover the rich history of India's Lord Swaminarayan, and our Hindu religion.
Relax amid the musical fountain and extensive landscaped gardens.

Jama Masjid

Learn the historical architecture of India's largest mosque, built in 1656.
Witness the history and practices of our Muslim religion, including the Jummah ki Namaz (Friday noon prayers), performed by thousands of Muslims at this mosque.

Chandni Chowk

Enjoy amazing food at the best hidden restaurants tucked amid this popular street.
Find authentic Indian handicrafts in a real bazaar.

Red Fort

Learn why UNESCO declared this fort a World Heritage Site.
Visit during around India's Independence Day (15th of August) to see the fort in its full splendor, when the prime minister of India unveils the flag on Red Fort and addresses the nation.

Raj Ghat (Samadhi of Mahatma Gandhi)

Explore this memorial to Mahatma Gandhi, and learn about Gandhi's philosophy and  influence from an Indian perspective.

India Gate

Visit the heart of Delhi, and learn about India's soldiers who foughtto bring India its independence.

Qutb Minar

Experience one of the most important Islamic monuments in India, which is also a UNESCO World Heritage site.

Lotus Temple

Witness how many religions come together in India at the Bahai temple (popularly known as Lotus Temple), which serves as a temple for followers of all regions.

Lodhi Garden

Relax in an 85-acre garden, which also contains the domed Bara Gumbad and tombs of many rulers of the Lodhi dynasty.

Humayun Tomb

See how Persian and Mughal architecture come together in this tomb, constructed in 1562.
Learn the history behind the tomb, and why it is a UNESCO World Heritage Site.
This list of places is for information purposes only. You can include and exclude any place from your sightseeing tour package.
  Enquire about your tour today!