"My trip through Rajasthan was incredibly diverse. One day I was in a quiet swimming pool, the next in a winding bazaar, the next in a regal fort. Thankfully Shine Gold Tour India was there to help me understand how so many cultures can come together in one place.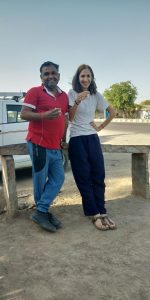 Asif and Asim were a great help as they know what they are doing. They understood my expectations and guided me accordingly. They have helped me for almost everything while I was there in India. They have guided me to the nicest restaurants and introduced me to the authentic cuisine. They have also taken me to the local market and genuine shops.
When it comes to visiting the tourist places, local markets, shopping or Authentic Indian Cuisine, Asif and Asim are the right people who can fulfill your expectations.
I am looking forward to traveling with them again in the future.
– Nora V., United States".
Email: noravizzini@gmail.com
Country: USA