My name is Graham, I live in New Zealand and I would like to speak of my experiences with Shine Gold tours. I credit myself with being the first of their (Asif's) customers. I date from before the name Shine Gold Tours.
I first met Asif and his brothers Assim and Arif in 1998. However, it was just Asif who took me on a three-week tour of Rajasthan, Agra and around Delhi. For me it was the personality of the guide that sold me, even if he was a teenager then with fairly average English in 1998. The flexibility to go where I wanted and when I wanted was paramount to me. Asif also knew a lot about fake ideas and fake prices. He was on "my side" in every conversation and that gave me the confidence to return to him and his brothers for later tours.
On my second trip to India Asif met me at the airport and brought his family with him. I didn't have to arrange a taxi or hotel. I left that to him. I also didn't have to worry about tuk tuk drivers and their strange advice. Delhi has a lot to see, though it can be a monster of a city to get around. There are museums of the different eras of India, enough to wear anyone out. There are many little museums, parks and gardens off the tourist trail which Asif and Assim took me to.
On my third trip to India, in 2006, we are getting older and Asif has a wife and son and his brother Arif is in college. I decided it was time to visit Haridwar and Rishikesh. Haridwar is city in the foothills with sacred Ghats on the river Ganges and is a bit off the trail for most Western tourists. For Hindu Indians however Haridwar hosts a major Hindu festival, the annual Kanwar Mel.
Rishikesh is the city where the Beatles learned yoga and meditation. There are temples and ashrams and the city is traffic and alcohol free and is a vegetarian location. It is also on the Ganges, fresh out of the Himalayan mountains. We then visited the city of Dehradun and visited the Tibetan Buddhist monastery to watch the monks meditating. Afterwards we went to the college where Arif was studying for his hospitality degree.
Next day we went to Mussoorie, a hill station village perched onto the side of a mountain, 1880 meters above Dehradun in elevation with snow fields all around.  Great to get out of the smoke and heat of the plains.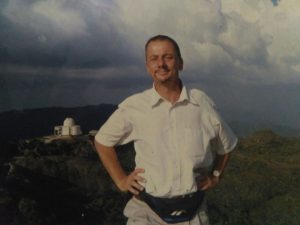 To finish my trip of 2006 Asif took me to Amritsar, the city of the famous Golden Temple, the holiest of Sikh Temples (Gurdwara). It has a bathing lake within its walls. I thoroughly enjoyed that trip and some wonderful hospitality of the Sikhs in the Gurdwara. Apparently, they provide meals for thousands of people every day. I was one.
The following day we travelled to the Wagha border. Wagha is a small town that was divided in 1947 by the division of Pakistan and India. Every day before sundown they have a "Border Crossing Ceremony" which looked to me to be a scene from a Monty Python (1970) TV series, from the Ministry of Silly Walks – now celebrated over many places in Europe.
The next day we caught a train to Delhi and then my flight home. The train was comfortable and felt safe.
I have maintained my connection with Asif and his family and look forward to another tour one day. Over the years Asif has developed many contacts with hotels and locations around India. He is a resource in himself.
Email Address:  gratar63@yahoo.co.nz
Country : New Zealand